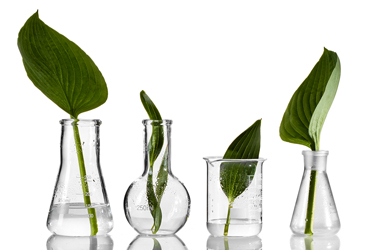 Key Actives:

Madonna Lily bio-extract (Lilium candidum bio-extract)
White Lily was a favourite with the ancient Greeks and Romans and was dedicated to the Madonna in the early days of Christianity hence the name Madonna Lily. It was highly valuable traditional skin healing remedy, well before the band-aid was invented. It helps sooth delicate skin, due to its composition of amino acids, flavonoids, tannins and mineral salts. Along with its anti- inflammatory properties, these elements combine to prevent premature ageing.
Brazilian Ginseng bio-extract (Pfaffia paniculata root bio-extract)
Generations of native South Americans have considered Brazilian Ginseng a vital ingredient in their traditional medicinal practices. This plant has been used for hundreds of years in traditional medicine throughout the Amazon basin. Often known under the name 'para tado' meaning 'for all things', this plant has a wide spectrum of uses and benefits. It is rich in Vitamin K, which is essential to any effective eye cream as it infuses skin with energy. Its anti-inflammatory properties help to reduce inflammation, redness and irritation.
Muira Puama bio-extract (Ptychopetalum olacoides bark bio-extract)
Muira Puama translates to 'potency wood' and has been traditionally used by the natives of the Amazonian Rain Forest as a natural medicine due to its richness in organic acids, tannins and essential oils. Historically, all parts of the plant have been put to use, however the bark is more frequently used because of its high concentration of fatty acids and plant waxes. This powerhouse ingredient protects against free radical cell damage keeping your eyes looking younger for longer. It also has an ability to tighten the pores without drying out the skin, giving you smooth skin around the eyes.
Vitamin A
Vitamin A is essential to cell production and growth. It stimulates cells in the connective skin tissues to produce collagen and other fibres. It helps to promote healthy and youthful skin by keeping it firm and smooth.
Vitamin B Complex
Vitamin B complex is known for its anti-inflammatory properties and ability to promote cell metabolism. It encourages cells to repair skin tissue, promotes skin rejuvenation and revitalises skin.
Vitamin C
Vitamin C plays a vital role in collagen synthesis, making it a crucial molecule for skin health. It helps skin to recover from photo-damage.
Vitamin E
This is a powerful anti-oxidant. It blocks free radicals, helps skin fight environmental aggressors and promotes skin's elasticity which is crucial for preventing premature ageing.
Vitamin K
Vitamin K infuses skin with energy and is essential in helping the body heal wounds and bruises. Vitamin K plays an essential role in reducing dark circles, helping repair broken capillaries, banishing under eye shadows and soothing the area around the eye.
Calcium
Calcium supports the skin on a cellular lever, helping skin cells to become stronger and absorb more nutrients. It helps to strengthen skin cell walls. Calcium is widely used to increase skin firmness and combat over-sensitivity and to help sensitive skin become more resistant to environmental aggression.
Flavonoids
Flavonoids strengthen blood vessels and are therefore an essential component of effective skincare. They assist in stabilising elastin and collagen fibres, the two proteins that form part of the skin's supporting network.
Folic Acid
Folic Acid plays an important role in the skin and body due to its ability to reduce toxins and help to reduce skin inflammation. It's known to be one of the most essential nutrients for cell development and cell division.
Iron
Iron provides skin with life-giving oxygen, thereby improving the appearance of skin and giving it a healthy, radiant glow.
Magnesium
This is one of four most common minerals in the cells. It's essential for the optimisation of skin functions. It helps to protect skin from inflammation. Magnesium is also essential for preventing premature ageing of the skin.
Omega 6
Essential Fatty Acids in the form of Omega 6 will aid skin recovery and repair. Omega 6 strengthens the protective barrier. In addition to protective functions it has ability to increase hydration, skin's softness and elasticity.
Zinc
Zinc has powerful healing properties and a history of being used to treat burns and scars. We used it due to its ability to strengthen the immune system of the skin. Zinc promotes skin tissue rejuvenation. It helps to prevent breakouts by regulating the activity of the oil glands. This universal ingredient is an anti-oxidant which promotes youthful looking skin by helping to reduce the impact of free radicals on the skin and promoting collagen production.
BIO-EXTRACTS Lamellar System®
This cream is developed using the BIO-EXTRACTS Lamellar System®.
The Lamellar System is the next generation emulsifier which mimics the structure of the skin's natural layers. Due to the cutting-edge Lamellar technology, BIO-EXTRACTS moisturisers create a bond with your skin and absorb instantly. This innovative technology enables us to increase the strength and concentration of the bio-actives and deliver them more effectively.
BIO-EXTRACTS Lamellar System® is 100% natural and botanical. Formulated through the combination of purified molecules from rapeseed, coconut oils and sugar cane.
It instantly gratifies the skin with moisture and carries the most potent actives into the skin's inner layers. It protects active ingredients so that they work throughout the day providing your skin with rapid transformation and lasting protection.