"Here's to strong women may we know them. May we be them. May we raise them."
Many have seen this quote before. We all hope to be strong and to surround ourselves with other women who empower us and bring us up. But what about the ones raising us to be those strong women?
This mother's day, we want to give thanks to the women that have made the sacrifices to raise girls that do not focus on fitting into the glass slipper, preferring instead to smash the glass ceiling.
Through this heart to heart interview with our founder, we hope to inspire other entrepreneurial women around the world to think business and be beautiful, inside and out.
When we are young, we always say that we do not wish to be like our mothers but as we get older, we realise that the apple never falls too far from the tree. Do you think this is the case for you?
Marina: My mother has always been a hard working woman. She instilled in me the same work ethic as well as a love for learning and admiration for people who have achieved something great that others can benefit from. This is why I have always been determined to create something incredible that I can share with the world.
Irina: Although my mum and I are very different characters, we share many common traits. My mother is not the kind of woman to accept compromises. I always disliked this trait in her as she is very difficult to negotiate with. However, as she became my business mentor, I have found myself adopting this characteristic as it is absolutely essential for making your vision a reality.
How did you both feel about going into business together, do you find working with each other do you both think quite similarly? How well does your Mother and Daughter relationship fit in with the business?
Irina: My mother has been my mentor all my life, and as I was growing up, her business has been all around me – sometimes literally as she basically has a lab in the house! For that reason, going into business with her was the logical thing to do. She's a strong-willed businesswoman, a real role model who has always taught me the importance of being a strong-minded, independent woman. It's great that she's now my business mentor as well as my life mentor.
Marina: Irina is not like the business partners I have worked with before. We could not be more different in our character. After all, we were raised in different eras and in different countries, but that's actually what makes it a great partnership. Having those differences is a beautiful thing, and it certainly makes the business more dynamic!
What inspired the creation of BIO-EXTRACTS and when did you launch the brand?
Marina: Around 10 years ago, I launched a luxury, top of the range skincare company, Nubo. It has been and still is, very popular. As my daughter was growing up and getting more interested in specific skincare products, I became aware that the Nubo range was aimed at a very specific market, that didn't include her. I wanted to do something about that.
Irina: The idea for BIO-EXTRACTS came about through conversations with my mother. Initially, she wanted to know what I was looking for from a skincare range. Our ambitions quickly expanded, and we realised we wanted to reinvent the conventional approach to skincare and create an affordable brand without compromising on the quality or the quantity of the active ingredients.
Marina: We launched BIO-EXTRACTS at the start of 2016. The inspiration that's driving us now is our vision to create a skincare range that grants your skin's wishes. Most skincare experts will tell you to limit your lifestyle in order to preserve your skin, but we believe that life is for living. We want BIO-EXTRACTS to be a skincare range that recognises this. We want it to be your skin's lifestyle support!
How close do you work with the team are you involved quite heavily on a day to day basis? And do you have any other members of family working with you?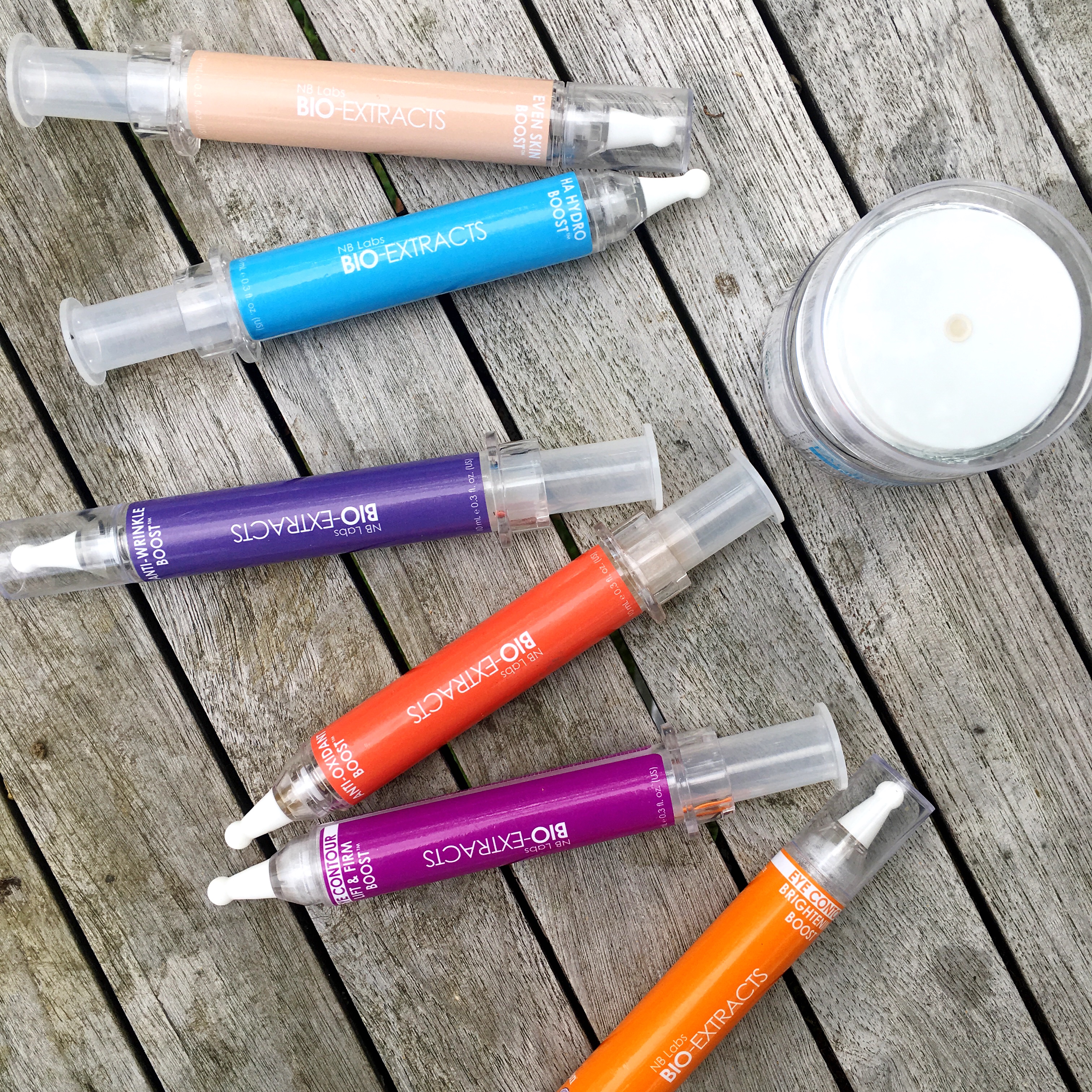 Irina:  We look after and are actively involved in each and every part of the business; from the initial conception of an idea in the lab to the social media posts about the final product and everything in between! It is a lot of work but that's what it takes if you want to give your customers the best results.
Marina: I'm a perfectionist. I like to be involved with everything and oversee every little detail but I am getting better as I get older, particularly better at delegating. And that's not just because I have my daughter to make sure that I don't try and do everything myself and do work with her!
How did you come up with the syringe idea for the packaging, who's idea was it?
Irina: The packaging was my mum's idea. I think it perfectly sums up the marriage between the cutting edge science and nature's most valuable active molecules that we use to make our products.
Marina: I wanted a design that was practical, attractive and eye-catching, but also said something about the product. In terms of the science behind the packaging, the airless syringe-like packaging represents the revolutionary Micro-Injected Delivery System® in each Boost. This is an incredible system that ensures the rapid delivery and absorption of the active ingredients into the skin, without the need for injections.
Irina: While there were no arguments about the syringe idea, there were many family disputes over which Pantone colours to go for! But I think, in the end, the choices we made reflect the fun and playful element of our brand.  Also, they remind me of a Russian fairy tale my mother used to tell me, about a girl who received a magic flower with seven different coloured petals. Each petal had the power to grant any wish that the girl desired. The Boosts are like the petals for me. Every Boost grants a specific wish!
Talk us through your daily skincare regime.
Irina: It really depends on where I am and what I've been doing the day before, which is the wonderful thing about of our line –  it gives me the power to tailor my skincare solutions day and night – and why everything I'm going to mention now is part of it! I start with a magic cleansing towel and if it's a party night, in the morning I'll add a few shots of the Glow Boost and Hydro Boost to my moisturiser and Clean to Clear in the evening. I also vary my regime depending on where I'm going to be, so if I'm in the city, I add an Anti-Oxidant Boost, as it's an absolute must for protection against pollution.
Finally, and I know some people might think it's more information than they need to know, but if it is coming up to my time of the month, Redness Relief and Clean to Clear are my saviours.
Marina: Cleansing is the most important part of any skincare routine so I start my day with the Vitamin C Foaming Cleanser from NuBo. I then add a drop or two of Lifting and Firming Boosts to my Normal Moisturiser and a drop of the Brightening Boost to the Age Defying Eye Contour Cream to get rid of any dark circles under my eyes. In the evening, I will start with the NuBo Velvet Cleansing Cream before adding some reparative Boosts, such as the Anti-Oxidant Boost to my moisturiser.
I have very dry skin and so, during the winter months, when its particularly cold I would use the Rich Moisturiser for the face and the Ultra Rich for the eyes, and rely on the Hydro Boost and the Rich Moisturiser to give my skin that perfect hydration and nourishment whilst I sleep.
I always carry the Anti-Oxidant and Hydro Boosts in my handbag, in case my skin needs some love during the day.  They are just so simple to use, and really help to keep make up fresh.
Do you have any further products launches in the pipeline for BIO-EXTRACTS?
Irina: We have very exciting new products in the works! We don't want to give away too much but we are currently developing top of the range products that will pamper your skin, whilst helping you to relax and feel your best.
Where would you like to see BIO-EXTRACTS in 5 years time?
Irina: We want to empower people to make skincare choices that are right for them. In 5 years time, we would like to see an ever growing range of BIO-EXTRACTS products in many stores!
Marina: It is always very rewarding to work on developing new products, to see your dreams become a reality and to see them making a difference to people. I would like to see BIO-EXTRACTS becoming an established brand, giving people the power to blend their unique skincare solutions on a daily basis and ensure their skin is looking its best, no matter what the changes are in their lifestyle, environment or time zone.
What tip would you give to women who want to start their own business?
Irina: Find a good mentor. Because men have traditionally dominated the business landscape, young men going into business have always found it easier to find a mentor they relate to. This is harder for women but it is becoming easier. Your mentor does not necessarily have to come from that business field. Entrepreneurship is about innovation and so there may not be anyone who has done that before. Make your own way. A good mentor will not tell you how to run a business but instead will give you a certain set of skills and a mindset that will enable you to do that.
Marina: I think that many women often underestimate their own potential and fail to dream big enough. I have always told my daughter to believe in herself and keep pushing boundaries to achieve something even greater. By our nature, women are sometimes more prone to react emotionally to criticism than men. There is no point in that, it is a waste of your energy. Always be rational in your approach.
For more mother and daughter stories check our Instagram.