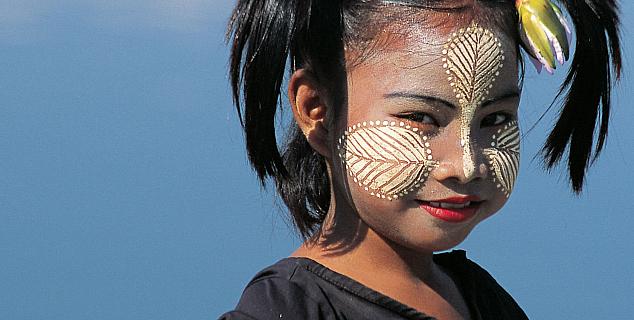 We love summer weather but it could be the cause of our skin breaking out too. Could the daily use of SPF products, heat and humidity be to blame? To keep your skin clear it's worth trying an exfoliating and deep cleansing treatment.
How to safely exfoliate in the summer?
Skin exfoliation is crucial for skin renovation and performance. At times exfoliation may cause skin irritation, redness and sensitivity, which is why it's often not recommended during the summer.
The Bio-Extracts Clean to Clear Boost is a powerful yet kind to skin exfoliating treatment. You can use it during summer even if you have sensitive skin. We recommend using it at night and the following morning applying an SPF cream.
Unlike many exfoliators Clean to Clear Booster is so gentle therefore it won't make your skin red or sensitive.
The inspiration for this boost is Thanaka. The founders came across it in Myanmar (Burma). Just after landing they were surprised to see that all people, men and women, children and elderly covered with some strange makeup. Locals told them that this is Thanaka. Everyone used Thanaka because it answers all three major skin concerns in this country such as sun protection, acne and skin lightening.
Marina and Irina bought a piece of wood in the open market, which is used to make Thanaka treatment.
After returning home, the founders sent this piece of wood to the lab to be analysed. Amazingly, it turned out that Thanaka has a close relative in Europe and US – a willow tree which bark is severely rich in the form of natural aspirin, perfect for the same skin problems: protection, exfoliation and anti-inflammation!
How the Clean to Clear was born.
The key ingredient is Salix nigra or Willow Bark Bio-Extract. It contains natural salicylic acid, a BHA used for acne treatment because of its ability to help skin shed dead cells and clear pores. This is a natural form of well known Aspirin
We are very grateful to biotechnology for discovering these active substances which give us tremendous advantages in treating our skin without irritation and calming down inflammation. The natural BHA contained in Willow Bark Extract can contribute the effects of the synthetic salicylic acid without the drawbacks associated with it (mainly irritation).

How does it work?
Anti-inflammation: Inflammation is the source of acne, rosacea, psoriasis, eczema, premature ageing, and more.
Reduces breakouts: Naturally, exfoliates skin and clears pores to help reduce breakouts and give the skin a clearer, healthier appearance without causing burning, peeling, and sensitivity.
Improves skin texture: The natural hydroxy acids gently exfoliate dead skin cells on the surface of the skin to reveal younger, newer cells underneath.
Antioxidants: With a high content of flavonoids and tannins—powerful antioxidants, it helps protect skin from damaging free radicals.
Antimicrobial: Willow bark banishes microorganisms, which helps clear bacteria on the skin that can cause acne and other issues.
You can use Clean to Clear Boost to calm down inflammation on young and problematic skin types. Make it your usual treatment to defy the ageing process and even for very mature skin. Inflammation is a cause of skin ageing, and exfoliation is the way of skin renovation and rejuvenation.
If you like the sound of our Clean to Clear Boost you can find it here.