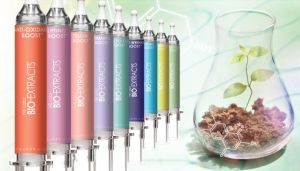 The boosters are on the rise – very well said! That's the newest trend in the beauty world.
What are the boosters?
The booster is "something that improves or increases something" – in cosmetics the boosters usually are very concentrated treatments in a form of a serum of which you can add a drop or a few to your usual skincare routine.
Why do I need boosters?
Even with a perfect skin care regime sometimes we want to target specific concerns, which are coming not from your skin type but from the lifestyle or simply change of climate, season, diet or other circumstances.
A winter season brings us drier skin with increased sensitivity or a long haul flight results in skin dehydration. There are periods of cycle when annoying spots and blemishes come up even on the very dry skin type. There are plenty of issues, which we have to handle because our skin is alive and it is an eco-system on its own.
Just like when dealing with occasional breakouts on the dry skin, do you have to switch to anti-acne skin care products? This won't be the best solution.
Or the dry patches which are coming occasionally on the blemish-prone oily skin, how to deal with these? A rich moisturiser won't be an answer.
Or when you prefer to use your favourite foundation which you can clearly see dries out your skin but you can't find a better foundation around. Is there a solution?
With Bio-Extracts you can have the full library of the pure botanical highly concentrated booster – serums, each targeted to specific skin concern.
How to use the boosters?
You can get benefits from including the boosters into your skincare and make up in lots of different ways.
1. For optimum results simply add a shot of your chosen Bio-Extracts booster into your favourite Bio-Extracts Lamellar System Moisturiser – Light, Normal or Rich (choose in accordance to your skin type). The molecule structure of all the boosters and moisturisers is designed in a way that the products penetrate each other when you mix them together. Literally, you super-charge your moisturiser with a booster or a few of your choice.
2. You can also add a booster to any moisturiser you are currently using.
3. Add a shot of a booster to your favourite facial oil to get more radiant skin from the Glow Boost, more lifted complexion from the Lifting Boost, a sensation of a firmer skin from the Firming Boost. Fight lines and wrinkles with a help of the Anti-Wrinkle Boost, fight pollution with Anti-Oxidant Boost and restore skin clarity with Redness Relief.
4. You can apply the booster directly on your skin after cleansing and before your usual serum and moisturiser application. Chose from any booster in Bio-Extracts range. You may also consider applying the booster only on specific areas.
5. You may use the booster on the top of your usual serum treatment if you like and before your moisturiser.
6. Add a shot of a booster to any liquid makeup – the Hydro, Glow or Anti-Oxidant boosters are especially good when they are mixed with foundation to get you more radiance, hydration and anti-oxidant protection. The Lifting Boost is also designed to help you keep in place the makeup longer.
7. Apply a Hydro Boost to your lips and eye lashes before make up for a superior skin plumping.
Be creative, make your skin care personal to you and get the best of your skin with a great selection from the range of Bio-Extracts boosters and creams!